About our nursery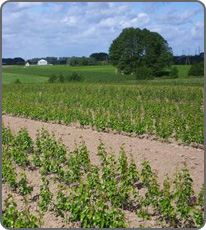 The tradition of running the nursery crops in our family goes back to the interwar period, when our grandfather, Piotr Buła, as one of few in Poland at that time, owned big nursery orchards.
Nowadays, achievements and methods worked out in the nursery production by our grandfather are continued by the next generations of our family and are improved through the technological progress. Today, our nursery functions on 60 hectares of the second-class soil, with the possibility to irrigate the crops and the necessity to use prolonged crop rotation. We are aiming at specializing in the production of all cultivars of fruit tress as well as fruit bushes such as currants, gooseberry, raspberry or blackberry.
We also engaged in rose budding, production of hedge plants (bushes and trees) such as liguster, bukszpan and others. The nursery has belonged to the Association of Polish Producers - the Nursery Group CENTRUM since 2001.